A Trip to Germany
From the 5. of March 2005 to the 21. March 2005 I made a trip to Germany.
Although It was cold in Japan when I left Osaka, man could already find omens for spring to come soon in Japan, But when I arrived at Frankfurt, it snowed heavily. The plane bound for Berlin left there thirty minutes behind time. A genuine winter still dominated Germany.
One of the main purposes was to visit Hans Jonas Zentrum (Hans Jonas Center) in Freie Universitaet Berlin (Free Universtiy of Belin). Hans Jonas was a Jewish philosopher. The scope of his investigation was very wide. He was famous for his study on gnoticism, his philosophy of organism, and his principle or imprerative of resoponsibility. Professor Dietrich Boehler is the head of the center and leads vigorously its activity of investigation and publication. I am much obliged to have a conversation with Professor Boehler. He was kindly willing to give me useful and valuable information about the advance of study on Hans Jonas in Germany.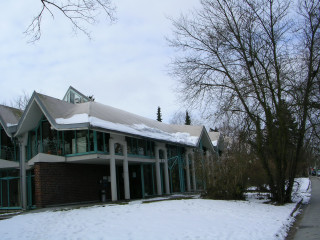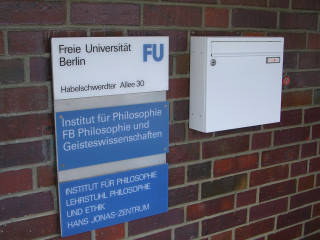 Hans Jonas Zentrum
Its location is very fine. At a first glance man might possibly take it for a bungalow. But many institutions in Free University Berlin have such appearances.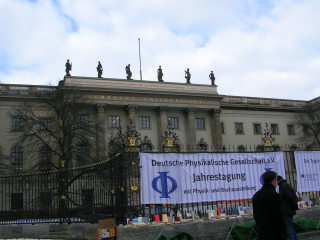 Humbolt University.
It happend to hold the 69th meeting of the German Physical Society here. Man sold used books in the campus. "Einstein read these books." It seemed to be a special exhibition. This year, 2005 is called Einstein Year, because he published three epochmaking articles in 1905.
Walking along the street of "Unter den Linden", looking in a shop of used books, lunching on "Curry Wurst (curried sausage)"-- a special menu in Berlin...... I felt as if I returned to be a young student.
Now there are so many buildings under construction in Berlin. Apparently the economical situation in Germany seems to become better. But it is not true. Man can find placards "rooms for rent" everywhere. When I wandered the streets in the Museum island, a poster called my attention: "Socialism is a way that does not lead us either to disemployment or to neonationalism."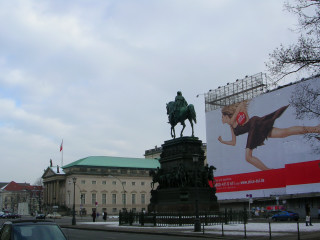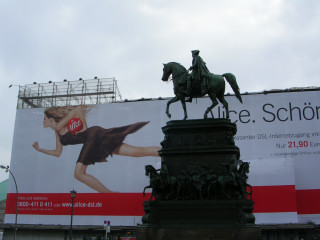 These photos were taken near Staatsoper (national opera house).
"Who runs faster?"
"She won! "
The fantastic statues in the Pergamon museum are of course a spectacle in Berlin. Watching them I called to mind a poem written by NISHIWAKI Junzaburo, a Japanese poet and surrealist. The poem describes a trip, perhaps, in Italy.
Eyes

On a day of May when white waves fall on the head / I pass through a pretty town in the south. / A quiet garden is asleep for wanderers. / Roses, sands, and water. / Roses rob the heart. / Hairs carved on stone. / Tones carved on stone. / Eyes carved on stone / are open forever.
On March 10. I visited "Universitaet Goettingen"(University of Gottingen). Gottingen is famous for its old university. I discovered a graffti on a wall of a building "Alte sind Europa." Yes, I am in favor of the old Europe contrary to the neoconservative in USA.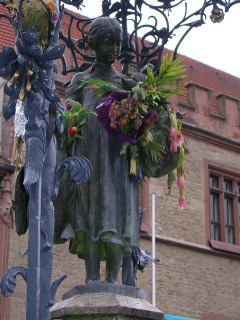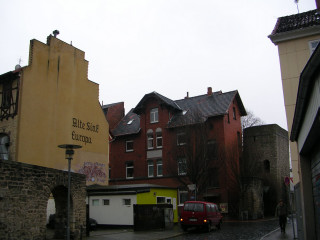 "Ganseliesel"
"Alte sind Europa"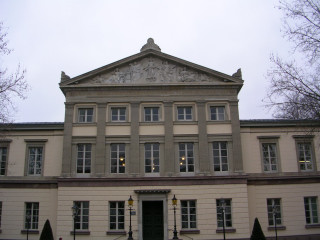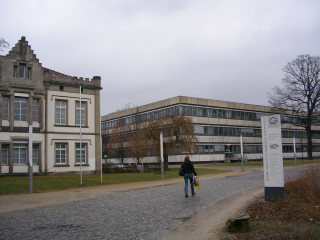 Aula (assembly hall) of the University
The new campus of the University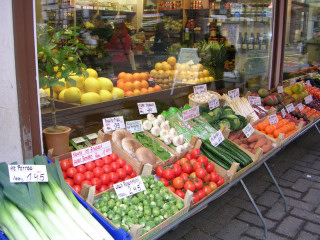 It still snowed on the morning of the 11th. But on the afternoon it changed into rain. It was still cold, but spring vegetables were on sale in shops. Sprouts, asparagus, sting beans.... Cucumbers are much bigger in Germany than in Japan. I found 'kaki's (Japanese persimmons) too. Oh, where do they come from?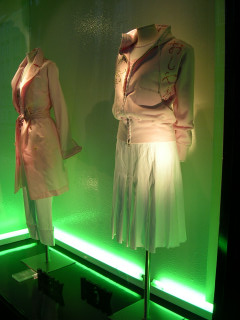 On March12. I arrived at Hamburg. It was Saturday. I looked forward to visiting the Hamburg city museum (Kunsthalle). Among others I was very happy to watch Munch's "Girls on a bridge". Four girls was standing on a bridge. Three girls see the river. Only one girl has her back to them and sees here. A special destiny seems to come to her. A mysterious atmosphere dwells in the picture as often seen in Munch's works.
I could find a spectacle at a famous boutique. It was a jacket for women. Its front was stitched with Japanese letters ("kana") "oshare". The meaning was 'fashionable'. While we, Japanese, find it somewhat comical, it could possibly seem really fashionable to young ladies in Germany. Many young German love comics, animations and popular music from Japan. I found many tranlated comics from Japanese in bookshops in Germany. So Japanese letters might be up to date as ornaments. By the way, we also can find many T-shirts in Japan on which nonsense foreign words are written.
On March14. I visited Cologne. One of the main perpose of this trip was to visit "Universitaet zu Koeln" (the University of Cologne). I am very happy to have a conversation with Professor Holger Burckhart. One of my current theme is the relation between Jonas' principle of responsibility and the critics of it by discourse ethics. Professor Burckhart is one of those philosophers who publish precise arguments about it.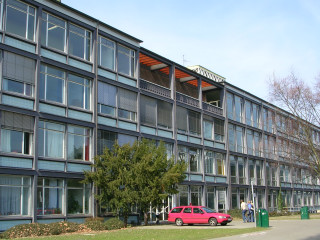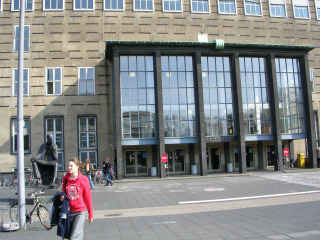 Faculty of education.
Library.
Albertus Magnus sits in the front. Oh, how modern this statue of a great medieval scholar is!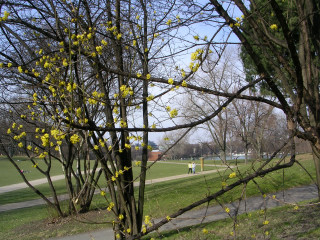 Hiroshima Nagasaki Park near the University. I had not expected that a park with this name was there. The peaceful scene there pleased me
I worked for six years in Hiroshima. Hiroshima and Nagasaki remind many peoople of the disaster of Atom bomb. Of course.
But you can see a beautiful city now, if you visit either of them.
On March 17. I arrived at Heidelberg.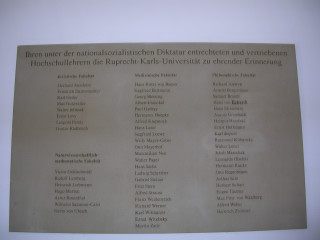 On this plate there are the names of professors who had to leave the university under the governments of NAZIS. It strikes me that this university is proud of these sincere and resolute persons.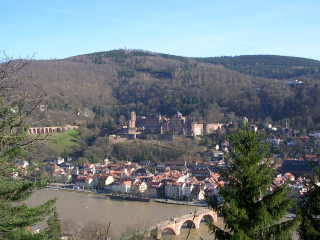 On the 18th, a fine day, I could walk about the castle and the philosopher's walk.
At prsent I must work heavily as a presidential aide of my university. Almost every day some meetings are held. A day without meeting! A day without reading or writing papers! It was a luck to have a cheerful day in Heidelberg.
The season shifted thouroghly. Snow was no longer seen on the field. Instead man could find crocusses everywhere.


index